What is super diverse, quite unknown and a genuine treasure chest for music lovers? We're talking about Indian music. Together with Sarthak Shirke and Sagar Joshi, we dive into the world of Indian music via both a lecture and a mesmerizing concert.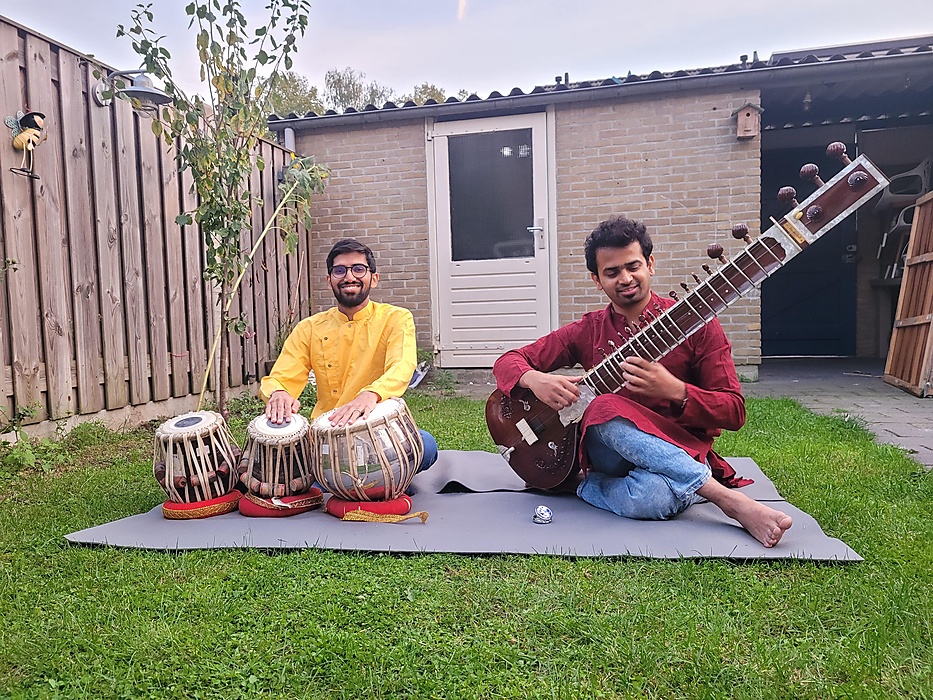 What do you know about Indian music? Due to the vastness and diversity of India, Indian music encompasses numerous genres in multiple varieties and forms. It has a history spanning several millennia, and it developed over several geo-locations spanning the sub-continent. Music in India began as an integral part of socio-religious life and continues to play an important role in the lives of Indians. It's the intricate rhythms, soul-stirring melodies, and profound philosophies that define this musical tradition. In their lecture, Sarthak and Sagar will highlight the history and significant contributors, and they will try to explain the associated mathematics and science as well.

But what's an evening about music without actual music? Therefore, Sarthak and Sagar will give a 30-minute concert showcasing the essence of Indian music. Get ready for a magical evening.

The performing artists
Sagar Joshi is from Mumbai, and currently lives in Eindhoven. He moved to Switzerland for his PhD in Robotics. He is now working as a Mechatronics Engineer in the Netherlands. He has learnt and is still learning Hindustani Classical singing from Pt. Suresh Bapat, and sitar from Pt. Ravi Chary.

Sarthak Shirke, originally from Mumbai, India, now lives in Eindhoven. He began his European journey to pursue a Master's Degree in Systems and Control and he is currently in the second year of his program. Sarthak's passion for music has been evident since his childhood, when he learned the art of Tabla. He has successfully completed five levels of Tabla examinations under the esteemed institute, Akhil Bhartiya Gandharva Mahavidyalaya Mandal, Miraj, Maharashtra, India. Furthermore, Sarthak Shirke continues to refine his Tabla skills under the guidance of the renowned Tabla maestro, Prasad Padhye.

This evening is organized together with the India Student Association Eindhoven.

Ticket reservation recommended
To be assured of a seat, we recommend reserving a ticket (black "order" button).
SG & USE/ITEC registration
Please register for SG & USE/ITEC at the workshop by scanning your student ID at the venue prior to the start of the workshop.

More information about SG & USE/ITEC can be found here.