'If art is a crime, may God forgive me'. What art are we talking about, do you reckon? Graffiti it is! The artform that originated in the ghettos of New York and evolved into a worldwide phenomenon. Guest speaker and graffiti pioneer from the Netherlands, Mick la Rock tells you all about it in this lecture.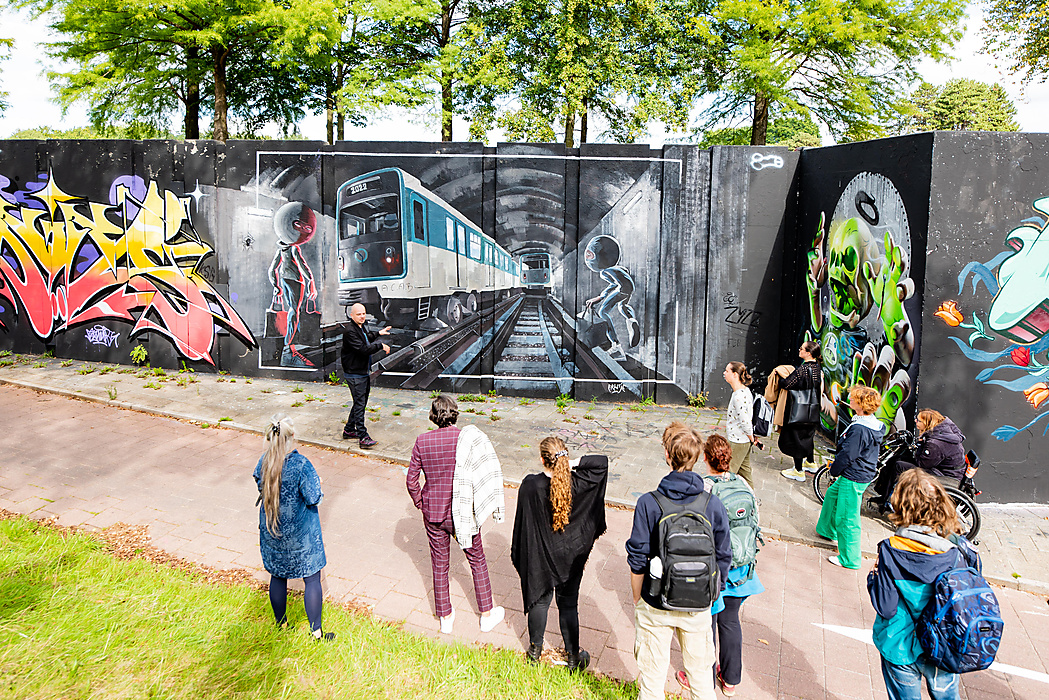 Picture of graffiti excursion given by Mike Dobber in graffiti arena the "Berenkuil". Photo by Maud Staassen.
Some call it vandalism, but public opinion nowadays sees it as art in public spaces. In this lecture, you will hear about the origins of this art form and that there's also a major socio-economic side to the rise of graffiti as we know it. Some claim that the first graffiti were those in the caves of Lascaux, for example, but that's not the graffiti Mick la Rock focus on here. We're talking The Bronx, Brooklyn, murals, the subway, gang culture and the rise of Hip Hop.
Aileen Middel, aka Mick La Rock, is one of the world's first and most well-known female graffiti artists. Nowadays, she's also an urban arts consultant with lots of active mural works and publications. She's been active since 1983 and has had a New York connection since 1992, when she was involved in a big exhibition of the Groninger Museum with the pioneers of the NYC graffiti scene. She's on it!